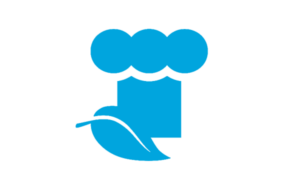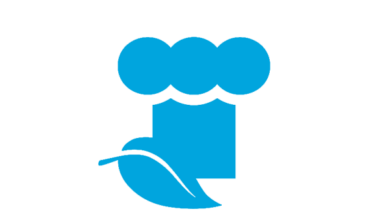 European Young Chef Award 2022
The European Young Chef Award 2022 was organised and promoted by the International Institute of Gastronomy, Culture, Arts and Tourism (IGCAT) and Trondheim-Trøndelag, European Region of Gastronomy awarded 2022, and was held at Strinda High School in Trondheim, on 11-12 November 2022.
Nine finalists took part in the 2022 edition representing 9 different European Regions of Gastronomy: Raúl Gisbert, from Catalonia 2016 (Spain); Beatriz Coelho, from Minho 2016 (Portugal); Oliver Sørensen, from Aarhus-Central Denmark 2017 (Denmark); Aikaterini Gonidaki, from South Aegean 2019 (Greece); Špela Kuhel, from Slovenia 2021; Rúben Lima, from Coimbra Region 2021-22 (Portugal); Pau Sintes, from Menorca 2022 (Spain); Ivar Follinglo Moe, from Trondheim-Trøndelag 2022 (Norway); and Pauline Place, from Hauts-de-France 2023 (France).
The competition was organised on two consecutive days under the theme Innovation on Tradition, whereby finalists were asked to innovate traditional recipes from their regions by using local seasonal products.
On the first day, the young chefs were welcomed and wished well by the Minister of Agriculture and Food of Norway, Sandra Borch and attended a presentation by President of IGCAT, Diane Dodd PhD on the importance of protecting and promoting food diversity.
Finalists signed a protocol agreement to become IGCAT Regional Chef Ambassadors, thus committing to spread IGCAT's message on the importance of food and cultural diversity and to adopt sustainable practices in their future careers.
Afterwards, they prepared and presented the chosen traditional recipes to be tasted by the jury. This first round was important for the young chefs to share knowledge about regional gastronomies and products.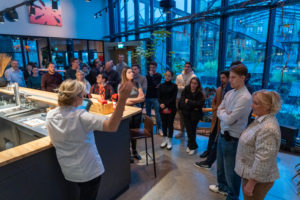 To conclude the day, finalists were hosted by one-Michelin-starred restaurant Credo – the first in Norway to receive a Michelin Green Star for gastronomy and sustainability – where chef and owner, Heidi Bjerkan offered an introduction on how to run a Michelin-starred restaurant according to the 17 UN's Sustainable Goals.
They also visited The Farm Society which explores and develops solutions for urban and controlled-environment agriculture and participated in a city tour of Trondheim.
On the second day, the European Young Chef Award 2022 competition took place, with finalists presenting their innovative dishes to an international jury of experts chaired by winner of the European Young Chef Award 2021, Espen Laumann, from Le Bistro (Trondheim, Norway) and including: chef Paul Newman, from Thyme Deli & Bistro (Perthshire, Scotland); chef Sonakshi Kanoria, from Credo restaurant(Trondheim, Norway); chef Johan Rudsby, from Nästgårds and Bua restaurants (Jämtland, Sweden); chef Gaetano Verde, from Charleston restaurant (Sicily, Italy); and Diane Dodd PhD, President of IGCAT.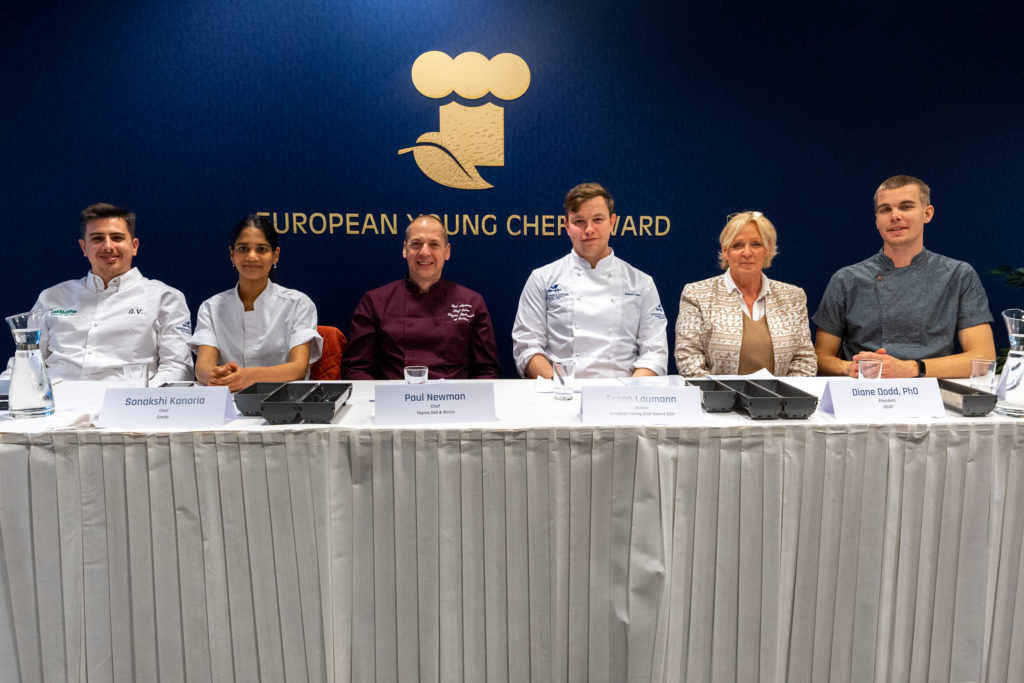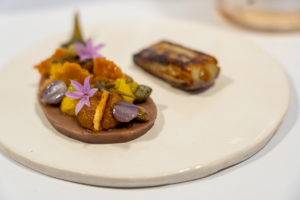 The winner of the European Young Chef Award 2022 was Pau Sintes from Menorca 2022 who presented the dish Menorca-style Aubergines: Simple and Complex, innovating on the traditional recipe Alberginies plenes or Barquetes d'alberginia (Menorcan-style stuffed aubergines or Little aubergine boats).
Špela Kuhel from Slovenia 2021 won the second prize with her dish Backed Cvičkov Stew, while third prize went to Ivar Follinglo Moe from Trondheim- Trøndelag 2022 and his dish Innovation of Fårikål.
The award ceremony was held on 12 November at K.U.K (Kjøpmannsgata ung kunst – Kjøpmannsgata Young Art Center) in Trondheim, in the presence of the Head of the Main Committee for Industry of Trøndelag County Authority, Per Olav Skurdal Hopsø.
On the third day, an excursion to the Island of Hitra/Frøya was organised where finalists had the chance to visit Lerøy salmon farm and Hotel Frøya, learn about the local production of fish, seafood and seaweed, and meet each other in a relaxed environment.
The European Young Chef Award 2022 was organised by IGCAT and hosted by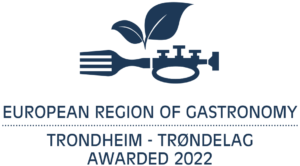 With the support of